Day 10: Lyme Regis to Sidmouth
Most of this day's walk is on the SW Coast path so we have the benefit of its waymarks. It is clearly divided into the mornings up and down along the Undercliff to Seaton and the roller coaster afternoon. There is no road access to the Undercliff path so take care not to turn an ankle on the multiple ups and downs, muddy patches, stairs and tree roots. It is mostly through mixed forest until the last mile before lunch when we finally ascend the escarpment into the open air. Seaton has a good choice of cafes and a decent pub for lunch, The Malt House. There is a brisk up and down over a headland to Beer (the tide is unlikely to be low enough for a beach walk) where we have a church stop. A zigzag through the alleys leads past the Pecorama Pleasure Gardens and up the hill again. This is the direct route to Branscombe where we pass The Masons Arms and a couple of NT places. There are loos behind the village hall and by the NT bakery teashop. Branscombe church is a jigsaw of church architecture from the Saxons onward so a great old survivor. The rest of the afternoon is a lovely scenic walk made gruelling by three ups and downs between 250 and 500ft at a time. As is the case for the morning there is no further road access unless one diverts well inland to narrow country lanes. All in all a strenuous days walk. If a pilgrim wished to shorten the day the afternoon is the most varied walking but the morning less strenuous.
---
Pilgrimage Newsfeed - Day 10
---
The catering van outside The Hub where we stayed in Lyme Regis John Chenery
---
St Michael the Archangel, Lyme Regis John Chenery
---
In St Michael's John Chenery
---
Narrow Lyme Regis Street Maurice Hickman
---
The Cobb Arms, Lyme Regis. Maurice Hickman
---
Above Lyme Regis.
Deirdre
---
Eek, the backmarkers are on my tail John Chenery
---
There followed 7 miles of wooded landslip with countless tree roots and flights of steps to negotiate. There were signs warning how long the walk can take and that there are no other paths either to the right or the left to provide an escape ... new pilgrim Cath fell over and here she is in second place in this group with an arm in a sling which Larry (first in the group) had improvised. We took turns in carrying Cath's rucksack for her. John Chenery
---
Lawrence Doyle
---
Seen enough of these:)
Deirdre
---
A rare view of the sea through the landslip forest. nor2747
---
Pilgrims fraternising with golfers on the approach to Budleigh Salterton nor2747
---
Injured Cath insisted on carrying her own bag for the gentle downhill into Budleigh Salterton Lawrence Doyle
---
The downhill route into Seaton at last. Much relief! Maurice Hickman
---
The Malt House, Seaton, and the square outside. Meanwhile Cath was taken to A&E and the X-rays were to reveal a triple fracture so it was sadly the end of her pilgrimage. Get well soon, Cath! John Chenery
---
Leaving Seaton via the beach. Now we are in Devon, the rocks are red. John Chenery
---
That says it all Jim Brodie
---
St Michael, Beer John Chenery
---
Monster spotted en route into Sidmouth. Maurice Hickman
---
St Winifred, Bransombe John Chenery
---
Outside St Winifred's church Branscombe. Is she still alive? claregamble
---
The splendid toilet of St Winifred, Bransombe John Chenery
---
Bullocks almost blocking the path John Chenery
---
back on the coast path and still a fair way to go on our toughest day John Chenery
---
A previously untweeted photo from Pilgrimage day 10: the backmarkers coming down the slope don't look that far behind but little do they realise they are going to have to go right down to sea level on the beach and back up again to get to where I am! John Chenery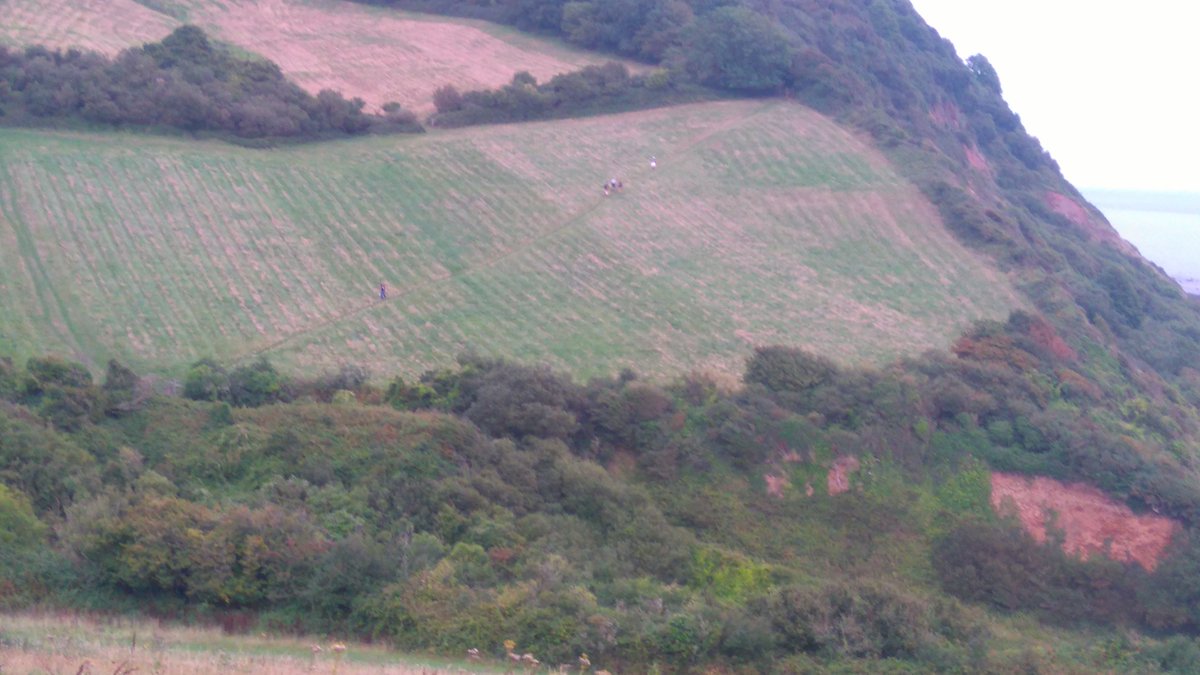 ---
Well Sidmouth is at least in sight John Chenery
---
The frontmarkers are preparing for dusk with reverse arrows John Chenery
---
View east from final top John Chenery
---
View west from final top John Chenery
---
just about making it in in daylight John Chenery